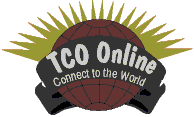 ---
Please note that TCO/ICU services are now being provided by MCF Software, LLC.
If you have any questions, please call 845-735-0210.
---
Menu
TCO On-Line's Services
Rockland County's Best Internet Service Provider.
TCO Online is here to serve you! We can provide you with any type of Internet service you require.
Our basic Internet Service package is $19.95 per month for 56k dial-up service. However, if you elect to pay for a full year in advance, then the price is only $199 for the year, a savings of $40. Included in the basic package is up to 5 email addresses, up to 5 megabytes of disk space for a personal web site and more!
You can give us a call at 845-735-0210 for more information.
Click here to access your ICU/TCO email via our web interface.
You can now sign up on the web using our sign up page.
---
OTHER SERVICES